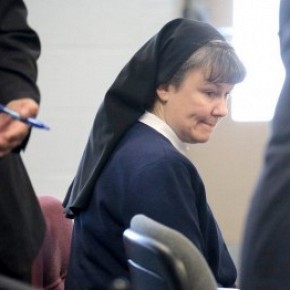 A nun in Philadelphia has been convicted of DUI by a judge in New Jersey after rejecting her claim that she was "sleep driving.
Judge Martin Whitcraft suspended Sister Kimberly Miller's license for 90 days after her municipal court case in the Washington Township.  Judge Whitcraft also suspended Sister Kimberly's license for 90 days, determined she must attend a driver's class, and pay over $650 in fines relating to the incident. 
Miller declined comment as she left the courtroom but Jeffrey Lindy, her attorney, did speak on her behalf, "She's obviously very upset, she's in tears. She's crying, and she's upset, because she knows what happened that night. I think the conviction doesn't bother her as much as the judge not believing her," said Lindey.
Witnesses told the authorities on scene that Miller was driving erratically and pulled into the parking lot of an auto repair shop where she backed into the front entrance while attempting to turn around, shattering the front doors.
After a breath test, it was found that Miller's blood alcohol level was at .16 which is twice the NJ legal limit.  Those results were later thrown out since the officers failed to observe Miller for 20 minutes before administering the test which is a legal requirement. 
Miller's claim in court was that she took an Ambien pill, along with a glass of altar wine, and had no recollection as to how she got to New Jersey or ended up in police custody.  She believed that she was in a state of "sleep driving" rather than drunk driving.
Judge Whitcraft rejected the story, along with the Ambien defense stating, "I do not think the state of New Jersey recognizes the defense of Ambien intoxication, sleep driving, if you will".
The Archdioceses of Philadelphia stated that Miller will remain on administrative leave while the case is being reviewed.
(Photo courtesy of The South Jersey Times)