Strategies for Defending DWI Cases in New York
2015 ed.: Leading Lawyers on Recent Developments in New York DWI Law and Their Impact on Defense Strategies (Inside the Minds)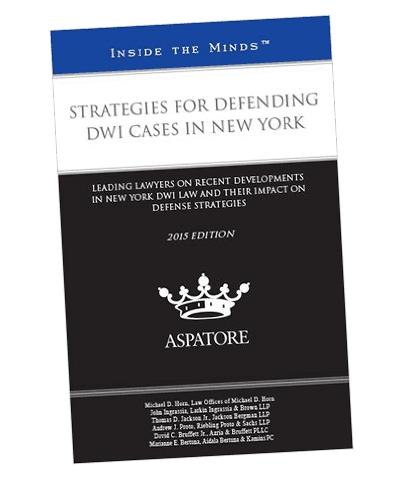 Strategies for Defending DWI Cases in New York provides best practice perspectives from several prominent NY attorneys including attorney Thomas Jackson of Jackson Bergman. As DWI laws get stricter, the penalties have never been higher for drivers who find themselves charged with a DWI offense in the state of New York. Fortunately, the book outlines strategies that can effectively challenge prosecution arguments from the time the driver is initially pulled over, to the time they are released.
The book asks tough questions of its contributors such as:
What are your client's constitutional rights in speaking with an attorney before making any big decisions?
What are the most common mistakes law enforcement makes when making a DWI stop?
What is the best strategy for defending a "bad" chemical test?
What are some examples of "best possible outcome" for a client and how do they differ?
This latest edition of the book is updated to reflect the latest techniques and methods in New York criminal defense law. The hardcover book can be purchased for $85 from Thomson Reuters. Click here to buy it today.