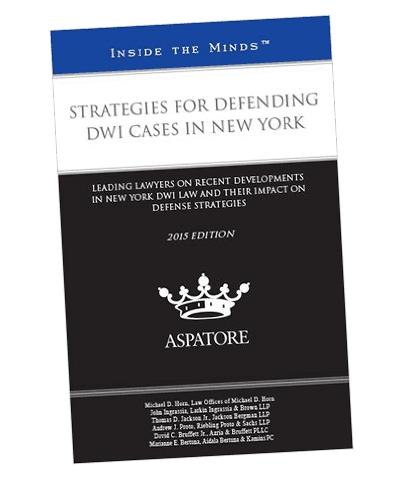 Binghamton, NY —May 5, 2016 —  The 2nd edition of a comprehensive book that guides defense lawyers through advanced strategies in defending New York State DWI charges was recently published by Thomson Reuters and features a chapter authored by Attorney Thomas Jackson of Binghamton based law firm, Jackson Bergman.
The newest edition of the Inside the Minds series has been updated to include the latest thinking on progressive strategies in defending criminal cases in New York State and brings to light methodologies and emerging trends that every criminal defense lawyer should be aware of.
"This was a tremendous opportunity for our firm to be involved in a nationally recognized resource that can help both practitioners and the general public develop an understanding of how a successful criminal defense case is developed," said Jackson, who serves as a partner at Jackson Bergman.  "The book is an insider's guide that will give insight into how a successful DWI defense case can turn the tide by challenging prosecution arguments at every stage of the case".
Inside the Minds provides readers with proven business and legal intelligence from leading C-Level executives and lawyers. Each chapter offers thought leadership and expert analysis on an industry, profession, or topic, providing a future-oriented perspective and proven strategies for success. Each author has been selected based on their experience and C-Level standing within the business and legal communities.
For more information about the contributions of Thomas Jackson to Strategies for Defending DWI Cases in New York, 2016 ed.: Leading Lawyers on Recent Developments in New York DWI Law and Their Impact on Defense Strategies (Inside the Minds) you can contact the firm at (607) 296-4190 or visit JacksonBergman.com.