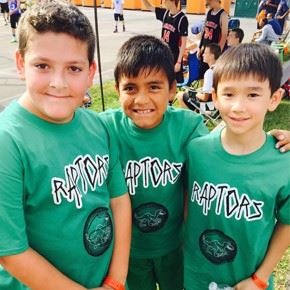 Jackson Bergman was proud to sponsor the "Raptors" at the Gus Macker 3-on-3 tournament in North Syracuse. 
The Macker Tournament is designed so that anyone can play: male or female, young and old, short and tall, the most experienced or no experience at all. This maintains the purity and integrity of the driveway game. Since 1987, the Macker tour has expanded, holding a total of 972 tournaments with over 2.2 million players – male and female from 7 years old to 50+ - and more than 23 million spectators.
In addition to the overall economic impact of bringing thousands of players & fans into the community, the charitable aspect of the Gus Macker Tournament is a very important part of each event. At each tournament site, the local organizing committee donates proceeds from their event to a local charity(s).
Also, in many cities local non-profit clubs, groups, and organizations raise funds through on-site food concession sales, special events and other on-site activities. The total amount donated to local charities by the local committees has steadily increased over the past few years. Gus Macker estimates that since 1987 - approximately $15,000,000 has been raised for worthwhile local charities.