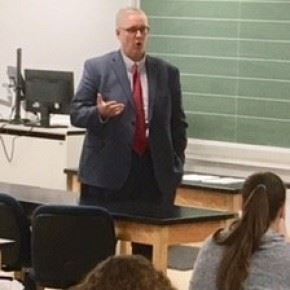 Attorney Thomas Jackson and Legal Assistant Natasha Barrientos were invited to speak to students at Broome Community College in Binghamton NY.  The class is led by professor Darin Schmidt who has been a past recipient of the Broome County Bar Association's Liberty Bell Award.

The class was titled "Courts and Sentencing" which Mr. Jackson and Mrs. Barrientos were able to utilize their decades of experience to give students their perspective on how the court system functions with regards to sentencing procedures.  Mr. Jackson enjoyed the opportunity to interact with the students.  "It was obvious to me from the depth of the questions that the students were asking that they have learned a lot in the class, and that they were very interested in the details of the subject.  From my perspective, the experience was very refreshing," stated Mr. Jackson.

The experience was beneficial for all-involved.  Mr. Jackson, Mrs. Barrientos and the rest of the team at Jackson Bergman wish the best of luck to Professor Schmidt's class.  Jackson Bergman is very thankful for the opportunity to have an impact on the education of aspiring attorneys.