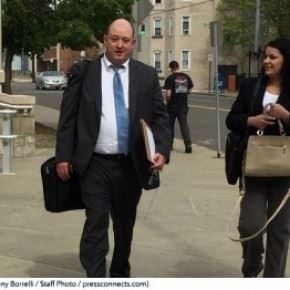 On December 1st 2016, former Endicott firefighter Jason Stokes was arrested by state police and charged with a felony count of second-degree arson. On May 15th of 2017 Judge Kevin Dooley stated "You're free to go" and Mr. Stokes walked out of the court room a free man.
The verdict came after seven hours of deliberations over two days and included a deadlock declaration which came just a few days before his final not guilty ruling. The 12 jurors in the Broome County courtroom rejected the prosecution's theory that circumstantial evidence pointed to Mr. Stokes starting the fire.
While no one would argue that the fire wasn't a result of arson, the question became who it was that set the fire. Fire investigators found several gas-filled containers strung together on the first floor of the home and also discovered anti-police sentiments spray-painted behind the residence. Mr. Stokes told investigators he believed the fire was set in retaliation to a "Blue Lives Matter" flag he had on display outside his home.
After the verdict came, Mr. Stokes lawyer, Benjamin Bergman, stated arson and circumstantial evidence cases must be investigated very carefully and the prosecution's case against Mr. Stokes left too many unanswered questions with too much room for reasonable doubt.
"It was arson, there's no doubt about it ... It was 'who did it,'" Bergman stated following the verdict. "Everything (in this case) was identity and it just wasn't there. It doesn't make any sense why he would do something like that."
After hearing the not guilty verdict, Stokes hugged Mr. Bergman and then embraced his wife and daughter who he helped escape the fire that ripped through their home on August 10th.
View the Interview with Attorney Ben Bergman after the 'Not Guilty" Verdict